Professional Development: Academy workshops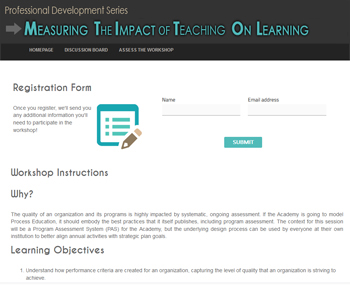 The inaugural series of PE Academy Professional Development Workshops continues to be met with open arms by Academy members. These synchronous 90 minute online workshops use Process Education principles to share ideas for strengthening the practice in our classrooms. The Learning Process Methodology is fully implemented in the workshops; as participants experience pre-workshop reading and reflection, in-workshop presentation followed by group reflection and assessment of the ideas generated and shared. Similar to our work with students the workshop participants are actively engaged in their learning and challenged to push their knowledge to new levels. Post-workshop assessments show that those participating are growing and learning each time they chose to attend. The workshop are free to PE Academy members and their guests. PE Academy Workshops have been held thus far including these topics.

Realizing the Value of Activity Books in Implementing Process Education
Promoting Student Growth with the Accelerator Model
Generalizing – The Solution to Students' Inability to Transfer Knowledge
The October 24th (7pm EST) workshop will focus on empirical methods for measuring the impact of metacognitive work with students, Measuring the Impact of Teaching on Learning. Facilitated by Dr. Steven Beyerlein, Dr. Phillip Masila Mutisya and Dr. James Osler, the workshop will develop strategies for mixed method research into the effectiveness of Process Education practices.
To learn more and register for this workshop visit: